What Zagat people think of airlines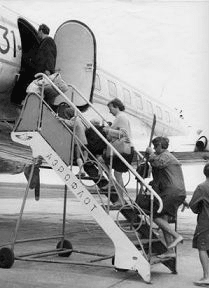 Zagat has published results of survey among their members.
For US domestic flights operated by large airlines, Continental was voted No. 1 in premium class while JetBlue took top honors for economy. Virgin America ranked 1 in premium class and Midwest for economy among midsized airlines.
For international flights, Singapore Airlines was voted No. 1 both in premium and economy.
65% of surveyors use their frequent-flier miles for free flights; 25% use them for upgrades; and 10% don't use them.
What is also interesting is reading cute comments of very dissatisfied fliers, quote them during your next flight!
Eggs in a carton have more room.

The only thing older than the planes are the flight attendants.

Did I get fatter or did their seats get smaller?

Trying hard to encourage us to drive.

Like spending four hours in third class on the Titanic.

Bathrooms smell like the lion house at the zoo on a hot day.

Domestic economy is a mobile prison only it lacks the food and the exercise yard.

Flight attendants are creative in finding places to hide during the flight.

Oh, for the good old days when we had food to complain about.

Would rather flap my arms than book this airline.