How to book a short-haul economy flight online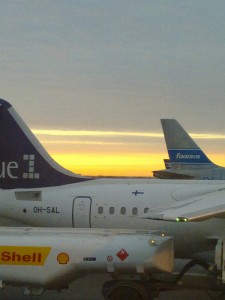 There are thousands of online booking sites, but most use a very small number of the same global distribution systems (GDS = an international computer reservation system that accesses many databases of suppliers, airlines, etc in different countries, such as Amadeus, Sabre, Galileo).
That is why you can search many different sites only to find the same results. There are mainly 3 kind of sites where you can search online for a flight:
- travel search engines
- online travel agencies
- directly from the airline site.
Travel search engines: they are referred also as "fare aggregators". These sites crawl multiple online travel agencies and airlines sites and provide you all results in one screen. A selection of recommended sites: Kayak, Mobissimo, Momondo, Skyscanner, Dohop, and 2 additional ones that are mainly focused on low cost: Which Budget and Air Traffic.
These sites do not sell directly the flight. You should use these sites as first step of your search: you get immediately a view of all (or quite all) airlines' options you have, timings and price. This will save you a lot of time by avoiding to jump from an airline site to another or to check multiple online travel agencies' sites.
Kayak:
-
-
-
-
-
-
-
-

Mobissimo:
-
-
-
-
-

Momondo:
-
-
-
-
-
-
-
-

Skyscanner:
- 
-
-
-
-
-
-
-
-
-
-
-
-
-
-

Dohop:
- 
-
-
-
-
-
-
-
-
-
-
-
-
-

Which Budget:

Air Traffic:
Online travel agencies: you can buy flight tickets directly from these sites. Some major European online agencies are Expedia, Bravofly/Volagratis, eDreams, Ebookers, Lastminute/Travelocity and Opodo/Travellink.
We do not recommend to browse these sites if you're looking to buy a flight ticket only. Instead they can offer you good deals for holidays packages or flight+hotel combination.
Airlines' sites: usually the offer the same price you can find in the online travel agencies' sites or via a travel agent. Better to book a flight ticket directly with them. This is true especially if you buy an economy domestic flight or a flight within Europe.
For intercontinental flights or for 1st class or business tickets, they are specialized retail travel agents that can give you lower fares than those found on the web. This is because they're specialized in some countries/cities (example Australia, South America or tiny island with limited connections) and they get getting extra discounts directly from airlines or from consolidators because they guarantee them significant business, or they have special deals with airlines for most expensive classes. If you want to know more about this, read here.
The 4 steps to book online a short-haul flight
1 - Browse a travel search engine site (or more than one) to find options for flights that suit your needs for timing, location of airport and price;
2 -If you want to do an additional check to be 100% sure that all options have been considered, check the departure or destination airport website to see all available flights as explained here;
3 - Once selected your flight option, you could visit your favourite online travel agency to check if they offer the flight at lower price than those available at the airline site. Check if they charge extra commissions;
4 - Buy your ticket immediately: some cheaper class fares within the same flight can become sold out if you wait too long - even some minutes after you've started browsing.