How to select your trolley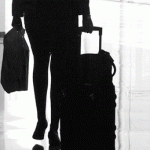 Tip 1: Do not spend too much for it.
if you're a frequent traveler, your trolley will need to be replaced every 2/3 years. So do not invest too much money on it. That means no LV or Prada trolley because you'll be really disappointed how quickly it will be ruined.
Tip 2: Smaller than maximum size allowed as hand luggage.
If you have a big trolley (even if fitting with maximum size allowed), you'll be asked every time at the check in to weight it. Once BA did not allowed me to carry one as hand luggage even if it was within the sizes limit. Moreover a smaller one, looks less suspicious and less chances to be weighted.
Tip 3: When you buy it, buy the lighter one.
A lighter trolley means you have more kilos for your own stuff. Avoid the aluminum ones or those with heavy wheels or handles. Your primary objective is to carry the trolley with you on the plane, so you should not care about its robustness features because they mean heavier trolley.
Tip 4: A lock inside the trolley.
If anything goes wrong - they will not allow to carry it as hand luggage, you should secure the trolley with the lock at the check out. Usually trolleys have outside pockets, place your lock there.