Twitt @ airport and on board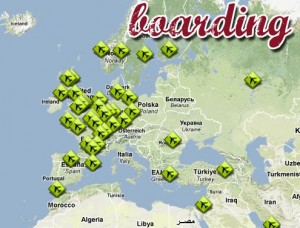 Just launched a French service via Twitter. Twitt #boarding along with the airport code and you'll get a reply with the list of the other users in the same airport in the last hours.
Also you can visit boarding.fr to see a map with airports and users who are there.
Another service for Twitter fans is Ezeer: you can send a review or a picture @eezeer #flightnumber while on board. They are also going to launch 2 applications for iPhone and Androids to enable real time reviews from mobiles via Twitter.
The company blog explains: "The next time your flight attendant gives you the cold shoulder when you ask for an extra bag of pretzels, whip out your phone and tell everyone! These are the types of applications that will show which companies are taking care of their customers and which are hiding behind slick advertising."
(via Springwise)