Train wins over plane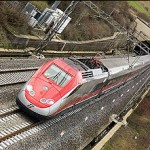 After 2 months since the introduction of faster train between Milan and Rome, number of passengers by:
* airplane = -2000 per day (-30%)
* train = + 2300 per day (+32% of which +64% on first class).
Italy is following pattern of other key European routes: between London and Paris 70% of passengers chooses train (few years ago it was the opposite). The same percentage between Paris and Marseilles. 60% of passengers goes by train for the Barcelona- Madrid route.
In the meantime:
- high speed trains across Europe have their own operative center in Railteam. Objective is to coordinate schedules and likely launch an European high speed miles program;
- Deutsche Bahn announces a future entry in the French market;
- new French TGV model has reached 574 km/h during a trial test.
Travels across Western Europe will be more and more on trains and we will see more and more airlines entering in the railways business to recover part of their lost revenues. Air France has signed an agreement with Veolia to have Air France trains on Paris-Amsterdam and Paris-Bruxelles routes.