The World's Most Impressive Airport Lounges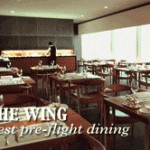 1. The Wing - Cathay Pacific, Hong Kong International Airport
The Wing is a 43000 sq ft open-air facility that features and 80ft bar, four restaurants and a full-service day spa. This luxurious terminal lounge also features private cabins with showers, beds and Jacuzzi tubs. Top it all off with free wifi, and executive office suites and you've got yourself quite the lounge. It has also been voted as "best pre-flight dining" by Monocle.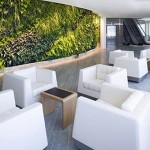 2. Qantas First Class Lounge - Qantas, Sydney International Airport, Australia
Designed by the world-renowned/ native Australian Marc Newson, this lounge features a 180 degree view of Sydney's beautiful Botany Bay. The main feature of this lounge is the Payot Paris day spa offering a range of complimentary treatments from a 30-minute express energising facial to a 50-minute full body massage. There is also a dozen desktop computers free-of-charge, if you didn't bring your laptop, and private office suites if you require a bit of privacy. And if you are hungry, there is a 48-seat restaurant that boasts a menu of exotic meals from around the world. The vertical garden features over 8,400 individual plants.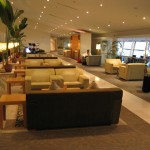 3. Golden Lounge - Malaysian Airlines, Kuala Lumpur International Airport, Malaysia
KL's airport deserves mention to this list if only for the fact that there is a rain forest enclosed within the airport itself. Within the Golden lounge, you will also find a river that literally runs through the terminal. Outstanding variety of food to chose from the buffet. Other notable amenities include: a gym, private rooms, and arcade and a full-service daycare center.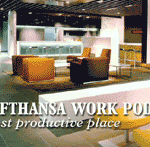 4. Lufthansa First Class Terminal - Lufthansa, Frankfurt International Airport, Germany
The First class terminal is in its own building next to the airport terminal 1. A loft-like lounge with plenty of seating, a dining area and private office space (if you travel for work). This lounge also features a cigar lounge, and if you are a first class traveler you will have a personal assistant from checkout to departure (where you will be driven out to the tarmac on a Porsche Cayenne).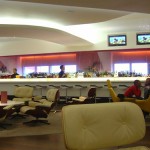 5. Virgin Atlantic Lounge - Virgin Airlines, London-Heathrow, England
Virgin's flagship at London-Heathrow features: a lounge, a den as well as a clubhouse all done in typical Virgin style. In the lounge, you can take to the roof where you can grab a drink while you wait for your flight and catch some rays. Leave the kids in the Den where billiards and video games will occupy their short attention spans until just before departure. And if you are hungry, you can take to the clubhouse to grab a drink, where you can get anything from a light snack to a hearty and tasty plate of bangers and mash. If you want the complimentary Spa service, be sure to book in advance or you probably do not have a chance for a massage or any other treatment.