The best selection for everything you need for your travel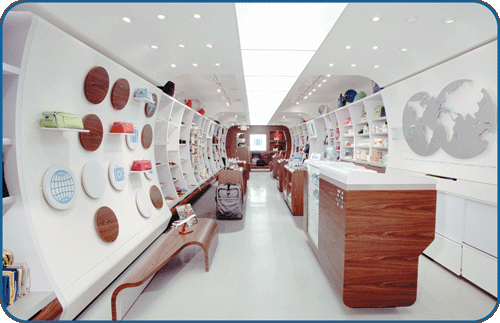 Flight 001. Visit the extra stylish stores of this brand. A must to see! I love the toiletries bags and the shoes bags and the luggage tags and the liquid zip cases and …
Here the vision from the website: "a store that made travel shopping as streamlined as the flight itself","Flight001 caters to international trend setters who both require and aspire to travel the world and look great doing it".
Co-owner Brad John says: "I think we were one of the first people to offer colorful luggage, passport holders. It still is very much black, all the luggage is black. I really feel Flight 001 started the trend that you ca be fashionable while traveling and comfortable".
A lot of recommended goodies:
- Silicone Travel Bottles. Plus: wide neck for easy filling, squeeze bottle , rotating icon system to identify liquid inside, carry on size (2 oz = 59ml), nice design.
- The Spacepak line of 8 bags to go in your bag. They maximize space and keep items neat. The clothes, underwear, lingerie packs have 2 sides compartments. You start to pack the clean side and as the travel goes on, dirty clothes go in the dirty side. There are also 2 toiletries bags and one pack for your suit that will undergo double compression.
- The plane kits that replicate the airlines' goodies bags. The "F1 first class kit" contains 14 items for your comfort on board.
- Travel bar with 2 folding cups, corkscrew, stirrer and 2 flasks to prepare by yourself a cocktail for the nice person sitting in 16D without bothering the flight attendant.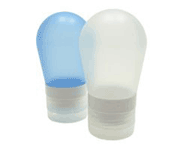 Flight 001 website (pronounced Flight One) ships only to US and Canada and a visit to their shops is highly recommended because of their innovative design that resembles the fuselage of a 747 jet. They have 7 shops in US and one in Dubai.