Ryanair boarded more passengers than Lufthansa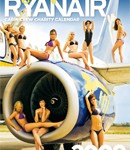 For the first time ever in European aviation history, a low-fares carrier - Ryanair - ranks N° 1 for total number of boarded passengers!
With 57.7 millions of passengers Ryanair overtakes Lufthansa that recorded 54.7 millions passengers during 2008.
Alitalia had the worst performance with - 26% of passengers lost, followed by Iberia with -13%. Best performing airlines were Ryanair (+18%), EasyJet (+17%), Turkish Airlines (+16%) and Swiss (+10%).
Majority of airlines suffered a decrease of tickets during last months of 2008. AEA airlines had -8% passengers during December. "We have seen figures as weak as these on only three occasions in the last 25 years", said AEA Secretary General Ulrich Schulte-Strathaus:  "in 1986, when Chernobyl and the US bombing of Libya caused major disruptions in travel patterns, in 1991 when the first Gulf War had a similar effect, and in 2001-2002 following the 9/11 attacks.  This time the upheavals are economic, and likely to be more powerful and longer-lasting than the external shocks of the past".
| Code | Airline | 2008 | 2007 |
| --- | --- | --- | --- |
| FR | Rynair | 57,7 | 49,0 |
| LH | Lufthansa | 54,7 | 54,1 |
| AF | Air France | 50,0 | 50,4 |
| U2 | EasyJet | 44,6 | 38,2 |
| BA | British Airways | 33,6 | 33,6 |
| AB | Air Berlin | 28,6 | 28,3 |
| IB | Iberia | 22,8 | 26,4 |
| SK | Sas | 25,3 | 25,4 |
| KL | KML | 23,8 | 23,3 |
| TK | Turkish Airlines | 21,9 | 19,0 |
| AZ | Alitalia | 18,0 | 24,4 |
| LX | Swiss | 13,3 | 12,1 |
(Source AEA and ELFAA, total boarded passengers 2008 in millions)