Restaurant guide for your blackberry, palm or windows mobile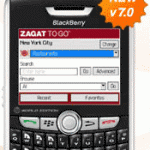 If you need restaurants' recommendations in all major US cities, London, Paris or Tokyo, Zagat to Go is your perfect tool for a lot of reasons:
- it's inside your device so you do not need to carry around extra weight;
- it's the electronic version of the Zagat guide on paper, that means one of the best restaurant guide you can get;
- it has a nice and simple interface that makes very easy to find the restaurant that you are looking for. If you have a blackberry or a smart phone, the search is GPS enabled that means the device detects where you are and selects places nearby.
1 year subscription is 29.95$ but there is a 14 days free trial - a great offer to test it before buying.
List of compatible devices is here and download instructions here.