Directory of major European airports is ready!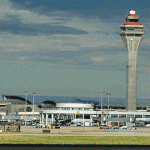 Finally here a comprensive list of all major European airports - it has been a lot of work but we hope you'll find it useful to organize your trips.
Directory includes airports from all European countries. In each country, airports listed are those having commercial international flights or being major airports for domestic flights only. Link to airport's sites and IATA code are included.
Q. How is this directory useful to book a flight?
Example: you need to travel to Barcellona from north of Germany. Go to the Barcellona airport website listed here and look for "flights arrivals" where you can see all flights (and airlines) landing to Barcellona from Northern German cities. Select those airlines and departure cities that are convenient to you and then you can go directly to the airlines' websites (or to your preferred booking flights website) and purchase your ticket.
Q. Why cannot I use directly websites like Expedia or similar to look for a flight?
These websites do not list all options you may have - for example Ryanair flights or minor low cost airlines cannot not show up in these sites.
Q. Which alternative tools to search for a flight online?
Use our recommended 4 steps for short-haul flights (domestic and within Europe).