Do you fancy to take a shower for 7000 euros?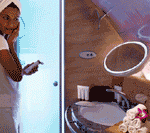 Emirates new A380 first class is amazing: fly from Dubai to NY and you'll enjoy private suite, a lounge bar and, for the first time in aviation history, a shower.
So next time you need to fly to NY, why don't you consider a stop over in Dubai and board A380 first class - ticket is about 7000 euros.
The experience of taking a shower at 43,000 feet could worth the cost, have a look at the video here!