Deliver your luggage door to door (and avoid airline fees)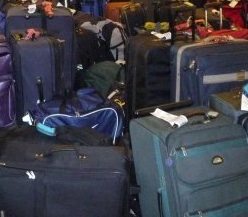 First Luggage delivers your baggage door-to-door all around the world. They will collect your luggage before your departure and forward it to your destination i.e hotel, home or office (and avoid the nightmare of lost luggage).
You can book it online and keep track of the shipment, they use FedEx.
Shipping a suitcase up to 30kg will cost you 93€ from UK to the majority of European countries, and 131€ within continental Western Europe. Considering that Ryanair will charge you 20€ for a suitcase up to 15kg and 15€ for each additional kilo, you could even save money.
Great service for sport equipments items (they handle even surfboards!) and for those travelling for business with heavy samples that MUST arrive at destination with you!