BA premium seats sales!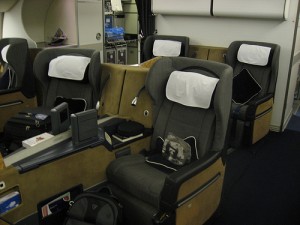 About 2 weeks ago, I've received a good offer from BA via email: 3 for 2 offer for First or Club World flights. If I do 2 flights, BA gives me enough BA miles to get a free flight in First or Club World on the same route. And, on top of that, they offer a Silver upgrade.
2 days ago British Airways offered a 2-for-1 sale on business-class seats from the United States to London.
Today reading the news, I've understood why:
News 1: "British Airways posted a loss of £375 million on Friday for the year to March 31, the worst annual performance since the government sold the airline to the public in 1987."
News 2: "The long-haul aircraft that we take delivery of this year will not have any first class cabins in them," said Willie Walsh, BA's chief executive. He insisted there was no direct link to the recession, but he added: "Longer term we will review the configuration of [all] new aircraft."
Walsh admitted that the cost of ripping out seats in the existing fleet is too great to get rid of first class in existing planes, leading industry watchers to speculate that upgrades for economy class travellers might become a more common occurrence. "In the short term we would have to spend money to do it and that's not necessary," said Walsh.
The review of seating layouts is taking place against the backdrop of a decline in business travel that poses a serious threat to long-haul airlines. BA relies on premium passengers for more than 50% of its revenues, more than any other major European airline.
BA has seen premium bookings decline by 13% over the past six months with its north Atlantic routes, BA's main source of profits, badly hit by the crisis in the banking sector. Its rivals have fared just as badly, with premium travel since the start of the year slumping by nearly 20% across the industry. Via UTV News
Prices of  premium seats are falling and upgrades could become more easy to get because it's too expensive for airlines to review the classes layouts and front rows cabins are empty. And it's not only BA: Lufthansa added 22 economy seats to its 747 and Qantas is cutting premium seats, too. Keep an eye on airlines offers: these days you could get a premium seat at economy price - and if your company doesn't allow you to flight business anymore, you could consider flying premium for leasure.