A very useful little book to communicate without knowing the language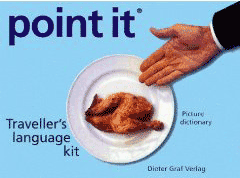 Point it! is a small booklet packed with photographs of items to point out.
The principle is simple: show the picture of the item you want or find or buy.
There are images of food, hotel facilities, clothing, toiletries, street scenes, traffic situations, nightlife, colors and many more.
Are you not sure if that dish contains pork or chicken? Simply show the picture of the chicken and you should (hopefully) get what you want. it is convenient to carry around: it has the size of a passport and it contains 1200 items grouped into categories.
Personally tested in Japan and Vietnam.
Click here to but it from Amazon France, Germany or UK.